2010 Summer Outing - Cleveland Rocks! Sunset Kayaking Tour
Date:
Thursday, August 12, 2010
Location:
Whiskey Island, specific details will be emailed to all registered participants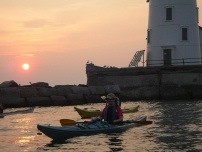 Cleveland Rocks! Sunset Kayaking Tour
∙ Thursday, August 12, 2010 ∙
• 6:00 pm – 9:00 pm • $35 per participant ·
REGISTRATION REQUIRED BY JULY 29, 2010!
Space is limited to the first 12 members that respond with payment. Registration is limited to members only and guests will be accepted on a space available basis. Please communicate your desire to bring a guest on your registration form and you will be contacted on or before July 30th if space is available.
Where we'll go:
This paddle departs from Whiskey Island, one of the few undeveloped green spaces adjacent to downtown Cleveland, and will head out across the Cuyahoga River along the Port of Cleveland. The tour will offer a close up view of the big ships that ply the waters of Lake Erie before heading into Northcoast Harbor for a paddle alongside the historic SS Mather. We'll have an opportunity to paddle under (yes... under!) the Rock n' Roll Hall of Fame & Museum and will also paddle out to the West Harbor lighthouse for a close up view of a classic Great Lakes lighthouse.
What we'll see
:
A working harbor complete with ore boats, tugs, and other commercial ships, two operational lighthouses and an abandoned Coast Guard station, panoramic views of the Cleveland skyline, close up views of the Rock n' Roll Hall of Fame & Museum, the Great Lakes Science Center and Cleveland Browns Stadium. Wildlife sightings might include great blue heron, cormorants and ducks.
Conditions to expect:
This paddle remains behind the breakwall and conditions generally remain flat. Boat traffic can kick up wakes and chop especially in the area around the Cuyahoga River.
How far we'll paddle:
5 nautical miles (approximately 2.5 hours of paddling)
What's included:
Single sea kayak and equipment (paddle, PFD, sprayskirt, whistle and light).
No Experience Required!
This is a good opportunity for
all experience levels. Paddling is done in sheltered conditions with limited exposure to waves or chop. Distances are short and the pace is relaxed.