Webinar Replay:
"What the Estate Planner Needs to Know about Roth Retirement Plans"
Date:
Thursday, July 26, 2018
Location:
Offices of Taft Stettinius & Hollister LLP, 200 Public Square, Suite 3500, Cleveland, OH 44114
Speaker:
Webinar Presenter: Natalie B. Choate, Esq., AEP® (Distinguished); Roundtable led by M. Elizabeth Monihan, AEP® with Benjamin Golsky, J.D., CISP, Karen M. McCarthy, CPA, AEP®, and Kimberly Stein
Attendees are encouraged to gather for a complimentary happy hour following the program.
---
Complimentary for Members!
Each member is also permitted to bring one guest to this event.
About the Program
What the Estate Planner Needs to Know about Roth Retirement Plans, including: 1) Roth basics: Types of Roth plans, tax treatment, who can have one, how to get one; 2) Why Roths are a great deal for wealthy clients and some others; 3) Who should get a Roth plan and who should NOT; 4) Who to name as beneficiary of the Roth plan (and who NOT to name); 5) What your wills and trusts need to say about Roth plans; and 6) Tax free Roth conversions and other tax saving Roth tips.
The program will air on July 18, 2018 as a part of the National Association of Estate Planners & Councils Robert G. Alexander Webinar Series. EPC Cleveland will be offering a replay of the webinar and will follow the program with a one-hour roundtable session led by M. Elizabeth Monihan, AEP® (Schneider Smeltz Spieth Bell LLP) with local subject matter experts:
Benjamin Golsky, J.D., CISP ∙ Key Private Bank
Karen M. McCarthy, CPA, AEP® ∙ Meaden & Moore, Ltd.
Kimberly Stein ∙ Schneider Smeltz Spieth Bell LLP
About the Webinar Presenter
Natalie Choate is an estate planning lawyer with Nutter McClennen & Fish in Boston. Her practice is limited to advising individuals and fiduciaries about the tax treatment of retirement benefits. Her book Life and Death Planning for Retirement Benefits has been called the tax professionals' "bible" on retirement plans. Natalie has lectured in all 50 states; her articles have appeared in Trusts & Estates, ACTEC Journal, and other professional tax publications. Her comments on estate and retirement planning have been quoted in the Wall Street Journal, New York Times, and Forbes.
Reservation Policy – All attendees are encouraged to register in advance. There is no fee to attend the program. Each member is permitted to bring one non-member guest.
Continuing Education – EPC Cleveland will request credit for this program from the CFP® Board of Standards for CFP® designation holders. To obtain credit, the attendee must stay through both the webinar and roundtable discussion, partial credit is not available. A certificate of completion will also be available for those CTFAs, CPAs, and CWS designees who feel the program satisfies their continuing education requirements. The council strongly recommends that those who are self-reporting check with their governing body to determine the eligibility of continuing education credit for an on-demand distance-learning program.
To Reserve, click "Register Now" below.
---
Facility and happy hour provided by: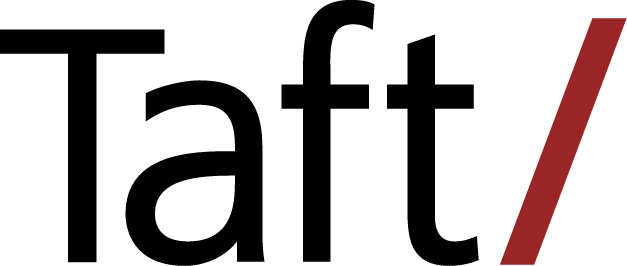 ---
Parking and Location Details – Taft is located on the 35th floor of the 200 Public Square Building in downtown Cleveland (the green Huntington Bank logo sits atop the stacked exterior of the building on Public Square). The parking garage is operated by Standard Parking, with entrances off of Euclid Avenue and Superior Avenue. Two elevators serve patrons from the garage directly to the building lobby; then proceed to the escalators and approach the security desk on the second floor. Due to the building's security practices, attendees will need to show photo ID at the security desk in order to proceed to the elevator bank to Taft's 35th floor office. Attendees who park in the lot will be given a pre-paid parking voucher when they arrive at the webinar to use when they exit the garage with their ticket stub.